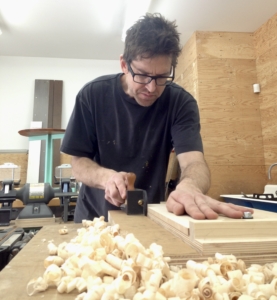 JOHN GLENDINNING
My Design practice is focused on creating original, expertly crafted furniture and objects that develop through my process bases explorations in wood.
I began to work WITH wood because I was initially seduced by its beauty and physical characteristics, I have continued working WITH it because it has challenged me in ways I never imagined possible. Although I have developed an intimate knowledge of the material and methods to manipulate it, it never fails to remind me who is ultimately in control while I attempt to convince it to do what I need it to do.
The direction of my work is constantly evolving and under reevaluation, one thing that is constant is the focus placed on the material. I think it is important that the natural features of a material be allowed to contribute to the success of the design but the design should not rely on those features to be successful.
My work has been exhibited and collected internationally and is been included in the fine art collections of the Canadian Department of Foreign Affairs and International Trade and The City of Montreal. In 2008 I was inducted into the Royal Canadian Academy of Arts. Currently I work out of my studio, which is situated in the Appalachian Mountains near Sutton Quebec, Canada.