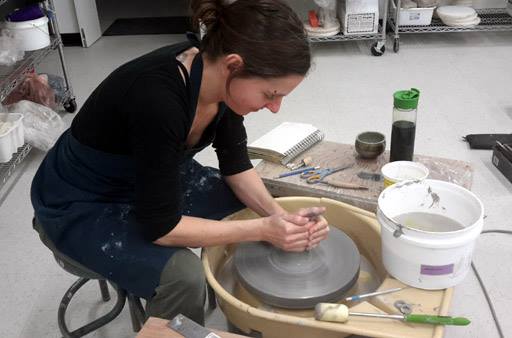 Sophie Pelchat
Ceramic
BIOGRAPHY
After having studies in various artistic fileds such as Arts and Literature, woodworking and interior design, Sophie decided to pursue her educational path in the filed of ceramic.  She always loved to create and clay was a medium that was fascinating to her.  Manual work was always of tremendous importance to obtain an equilibrium.
After a three year professional formation at the Centre de céramique Bonsecours in Montreal, she started her own business in 2015.
Sophie Pelchat ceramist was born.  Sshe participated since to many events such as Le Salon des Métiers d'Arts de Montréal, the 1001 pots in Val-David, The Grande Fabrique in Montreal and at Céramystic à Way's Mill's.  Her creations are mainly objects issued from the contemporary arts of the table, refined and urban.
ARTISTIC APPROACH
My creations are mainly inspired by my urban environment and by nature as well. I turn, shape and mold utilitarian objects with two type of clays:  porcelain and semi-sandstone to which I add colored glazes.  As much diversity with the purpose to create contrasts between vegetable colors and the grey-concrete.  While use daily, I hope that my ceramics will color your life with simple pleasures while enjoying the present moment.