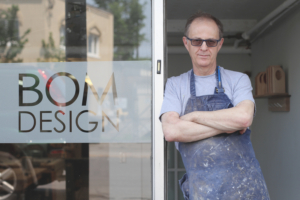 Michel Boudreau
Artisan concepteur
bom (design) is a workshop dedicated to the conception and to the realization of unique objects enhancing the wood nobility while proposing a minimalist and contemporary view of the matter.
The passion of making something different with wood brought us to develop "the wood ready to wear" with the sack (purses) family, the papi (bow ties), the kravat (neckties) and the braslè (bracelets).   These products became the main products of our creations.
Based on the technique and ergonomic qualities used int the creation of our objects, bom (design) created functional pieces, fashionable and casual which are becoming indispensable in our daily life.
The coatings and textiles used in the realization of the objects reflects the guidelines of our products by featuring noble and natural matters such as real wood veneer, felt, leather and cotton.
bom (design) est un atelier dédié à la conception et à la réalisation d'objets uniques mettant en valeur la noblesse du bois tout en proposant un regard minimaliste et contemporain de la matière.
La passion de faire le bois autrement nous a amené à développer « LE BOIS PRÊT À PORTEER » avec les familles des sack, des nœuds papi, des kravat et des braslè.  Ces produits sont devenus notre créneau de création.
Basé sur les qualités techniques et ergonomiques des produits, bom (design) crée des objets fonctionnels, actuels et décontractés qui deviennent des indispensables au quotidien.
Les revêtements et textiles utilisés dans la création des objets reflètent la ligne directrice de la marque affichant des matières nobles et naturelles telles le placage de bois véritable, le feutre, le cuir et le coton.