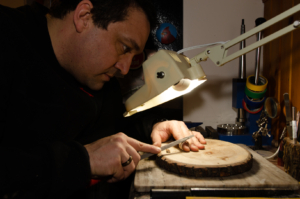 MATHIEU CHAUME, JEWELRY ARTIST                         www.AtelierdubonBouleau.com
The Atelier du bon bouleau specializes in the creation of wood rings who makes you feel good since 2017.  Personalized to your image, each ring is made to be loved. We have help more than 300 couples celebrate their union in a unique way.  We are specialized in the creation of custom wood rings that do not exist in jewelry stores and in the design of creatives wood objects. Mathieu Chaume is one of the pioneer wood rings artist and is ranked as one of the best wedding and engagement wood rings maker in Canada.  All our creations are life guaranteed and they come with a certificate of authenticity.  Our creations are entirely hand made locally in Mont Shefford, a 45 minute drive from Montreal.
Our expertise as a woodworker, a jewelry maker, goldsmith comes from classes taken at the École d'ébénisterie d'art in Montreal and at the École de joaillerie in Montreal.  The atelier du bon bouleau is the exclusive designer of a jewelry box made from a wood taken in a beaver dam and also the exclusive designer of the wine road ring.  Our mission is to reach total satisfaction from all our clients while living an artistic experience unique in Canada.