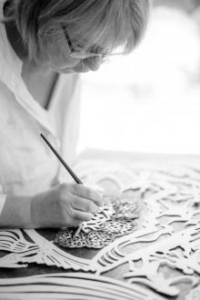 Manouche
Artistic approach
Born in France, immigrated in Quebec in 1973.  Multidisciplinary artist. Fabric designer in Montreal.  C.A.P.  (Centre d'Apprentissage Parallèle de Montréal) co-founder and co-director, painting and drawing teacher for more than 20 years in art therapy.
In 1994, I discovered St-Adolphe and, seduced by its beauty and charm, I decided to make this place my permanent home in the middle of the forest just at the edge of the village at the foot of Mont Ham.
Inspired by the wide spaces surrounding me, the animals and the birds who are part of my daily life, I let my imagination run which allows me to conceive a new technique where the Exacto and the paint brush transforms the paper and watercolor into sculptures full of movement and colors.  The high density watercolor paper is my favorite medium but, occasionally, I also work metals such as copper, aluminum, stainless steel and brass.