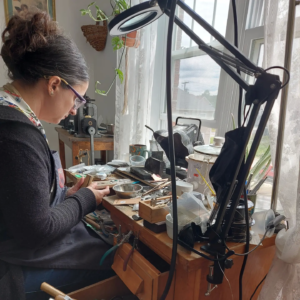 Karine Weisshuhn
ARTISTIC APPROACH
After studying adornment in archeology for several years, and writing a master's thesis
on the subject, Karine Weisshuhn, the artist behind Atelier Kappa, turned to jewellery and adornment making, taking into account the importance of jewellery for human beings.
Since 2014, she has been working on jewellery collections in her small home studio in Magog. She privileges the use of recycled metals and natural materials. Recently, and is a project still in development, she has also been using
stones from Québec and other Canadian provinces.