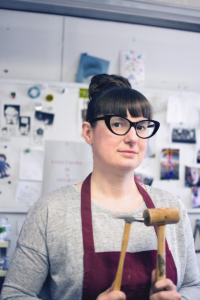 For about twenty years, Julie Mineau has been making jewelry, devoting her time to her personal collection and to the production of one-of-a-kind pieces. Her original creations are hand crafted one by one with noble materials in the utmost respect of jewellery art.
Recipient of many awards and mentions, Julie is constantly perfecting her art by following advanced courses in her trade. She studied visual art in Trois-Rivières, art history at Concordia University and graduated in jewelry making at l'École de joaillerie de Montréal. She is a member of the Quebec Craft Council and of the Eastern Township Craft Corporation. She was twice a finalist for the prestigious François-Houdé Prize awarded by the city of Montreal.
The artist lives and works in the Eastern Townships with her life partner, her daughter, three cats, her tools and a lot of imagination.