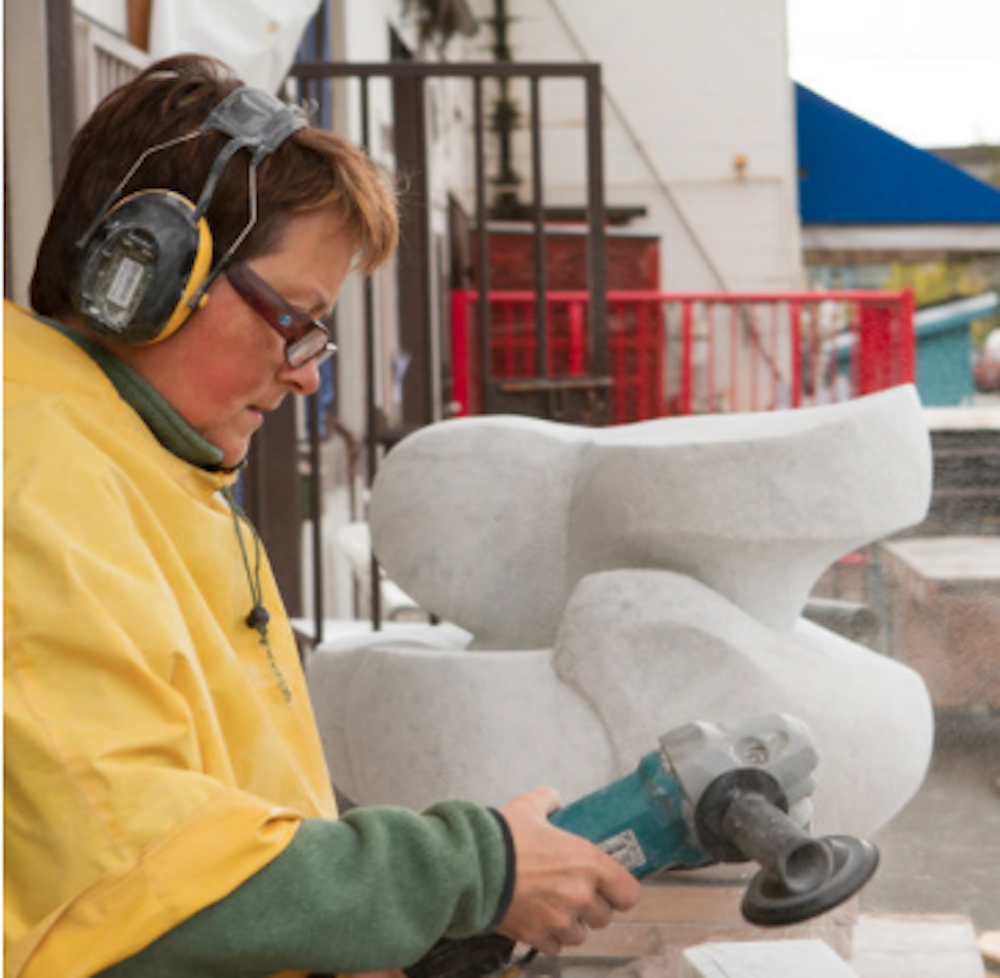 Biography
Growing up in rural Québec, Jocelyne Dodier unraveled her creativity as she used all imaginable tools in the farm workshop. When time called for college, she moved to Québec City to study physical rehab. Two years after, she took up hairdressing as a way to becoming independent. While pursuing that career, Jocelyne got inspired with charcoal drawing classes, for which she was a natural at.  It was at that time that she really realized she would go back to art later in life.
Insatiable for adventures and challenges, Dodier moved to BC in 1993 with the intent to explore further opportunities.  Indeed! 7 years later, she graduated with a psychology degree, became bilingual and pursued a career in social services.  At some point, her needs for creativity, freedom, and control of her destiny flared up again and finally she emerged as a stone sculptor during 2010. Her first piece representing the birthing of her art, made it to New York in Juried Exhibition.  In addition to this, Jocelyne has participated in the Culture Crawl. Radio-Canada interviewed her in a radio Show: "Phare Ouest:  http://bit.ly/1O8YUb0 and made a video clip: http://bit.ly/1TbWEpp to portray the artist at work. Since then she partook in three group exhibitions.
Artist's Statement
Three-dimensional art is my medium and since childhood stone has been very meaningful to me!
At the beginning of a sculpture, I get deeply attracted to the stone with a desire to develop a relationship with it.  I am very curious to discover the stone's properties in relation to the way the stone responds to hits and touches. I am attracted to the stone's fractures, colours or textural variations; all that is guidance for me as I explore; I find revelations, meaning and experience in the sculpture as it comes alive.  This is one of my spontaneity techniques!
The other technique I use is a more methodical one; researching what I would make, sketching and modeling the idea. Following this, I work directly on the stone, there is no revelation in this case, but the modeling gives me more information on the physiology of the piece to come and, so also the challenges. My sculptures can be figurative, abstract or symbolic of nature and culture.
The more my work evolves, the more whimsical my compositions become.   I continue to bring symbolism in relation with nature, movement, health and culture.
I sense that my art is evolving towards mixed!