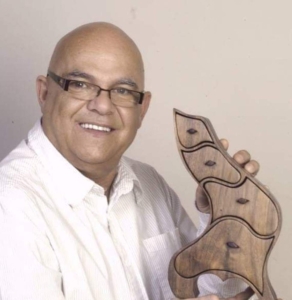 André Dorais's inspiration
"I am specializing in the creation of stylized jewelry chests made of Canadian and exotic woods.  This idea came to me when I saw the Disney movie "Beauty and the Beast".  At a certain point in the movie, everything starts moving in the castle and we could see an armoire with unusual angles.  My concept of stylized jewelry chests was born.
With their unorthodox design, my chests differ with what our eyes are used to perceive, and unique models are taking forms.   Since my beginning in 2005, my work has been featured in many magazines, I was invited to several TV shows and was rewarded many prizes at different exhibits.  One of them was the prize "Coup de coeur" from the prestigious Salon des Métiers d'Art du Québec" in 2006 in Montreal.
My creations are found everywhere in the world in the Cirque du Soleil shows.  The Ministry of external affairs of Canada donate my creations to dignitaries and presidents who visited our country.